News — Glass Chandelier Crystals Bulk
Posted by Ronit Sen on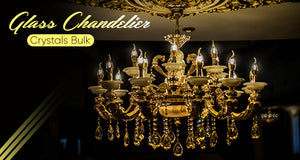 The evolution of the room chandelier is inextricably linked to the history of crystal glass. Chandeliers began as candle holders that were hung from the ceiling to brighten a room while also reducing the risk of fire. If you're looking for glass chandelier crystals in bulk, you should be aware of the facts regarding the chandelier crystals that are utilized in today's large range of fixtures. Crystal Glass Casting A method of casting glass prisms was invented in the late 17th century. This glass was simple to make, relatively inexpensive, and far easier to deal with than true rock crystal,...
Posted by ankes Barthelus on
Crystals are known for their aesthetic value and healing powers. You can also use them in your art and craft projects. We visualize beautiful mineral objects in regular geometric patterns when thinking about crystals. However, for gemologists, crystals are only solids whose atoms are arranged in a highly ordered repeating pattern. Overall, it is fair to conclude that any mineral with atoms in a highly arranged way is a crystal. This post will discuss all the information about this beautiful gift of nature and reveal the best place where you can buy glass chandelier crystals in bulk in the USA....